Picasso, Pablo Ruiz y (1881-1973), Spanish painter and sculptor, considered the greatest artist of the 20th century. He was unique as an inventor of forms, as an innovator of styles and techniques, as a master of various media, and as one of the most prolific artists in history. He created more than 20,000 works.
Picasso was born in Málaga on October 25, 1881, the son of José Ruiz Blasco, an art teacher, and María Picasso y López. Until 1898 he always used his father's name, Ruiz, and his mother's maiden name, Picasso, to sign his pictures. After about 1901 he dropped "Ruiz" and used his mother's maiden name to sign his pictures.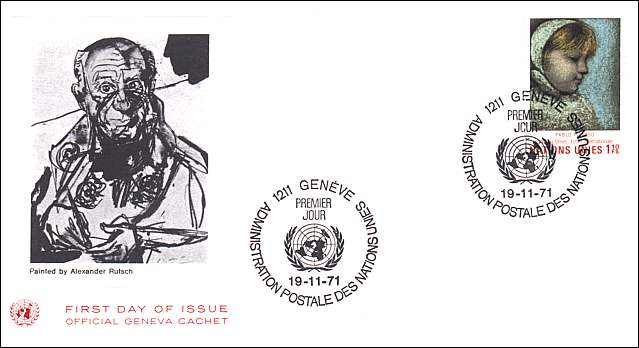 Picasso's genius manifested itself early: at the age of 10 he made his first paintings, and at 15 he performed brilliantly on the entrance examinations to Barcelona's School of Fine Arts. His large academic canvas Science and Charity (1897, Museo Picasso, Barcelona), depicting a doctor, a nun, and a child at a sick woman's bedside, won a gold medal. Tip: please point to the stamps with the mouse index for supplementary information.
During World War I, Picasso went to Rome, working as a designer with Sergey Diaghilev and the Ballets Russes. He met and married the dancer Olga Koklova. In a realist style, Picasso made several portraits of her around 1917, of their son (for example, Paulo as Harlequin; 1924, Musée Picasso), and of numerous friends.
Many of Picasso's later pictures were based on works by great masters of the past-Diego Velázquez, Gustave Courbet, Eugène Delacroix, and Édouard Manet. In addition to painting, Picasso worked in various media, making hundreds of lithographs in the renowned Paris graphics workshop, Atelier Mourlot.
Throughout Picasso's lifetime, his work was exhibited on countless occasions. Most unusual, however, was the 1971 exhibition at the Louvre, in Paris, mounted to mark his 90th birthday; until then, the work of living artists had not been shown there. Picasso died at Notre-Dame-de-Vie, his residence near Mougins, on April 8, 1973. (After Microsoft Encarta 1996)
Background: Nude drawing, 1920, Marie Cuttoli Collection.