He couldn't afford a model and painted often himself
Gogh, Vincent Willem van, Dutch Post-Impressionist painter, whose work represents the archetype of Expressionism, or emotional spontaneity in painting.
In 1886 van Gogh went to Paris to live with his brother Théo van Gogh, an art dealer, and became familiar with the new art movements developing at the time.
Influenced by the work of the Impressionists and by the work of such Japanese printmakers as Hiroshige and Hokusai, van Gogh began to experiment with current techniques. Subsequently, he adopted the brilliant hues found in the paintings of Camille Pissarro and Georges Seurat.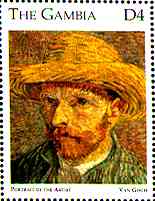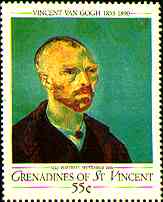 In 1888 van Gogh left Paris for southern France, where, under the burning sun of Province, he painted scenes of the fields, cypress trees, peasants, and rustic life characteristic of the region.
For a time he was in a hospital at Arles. He then spent a year in the nearby asylum of Saint-Rémy, working between repeated spells of madness. He shot himself on July 27, 1890, and died two days later.
The Rijksmuseum Vincent van Gogh, containing over 1,000 paintings, sketches, and letters, was opened in Amsterdam in 1973. Source: Microsoft Encarta 1996.

1889. London. Courtauld Institute
Oil on canvas, 60 x 49 cm
Largely on the basis of the works of the last three years of his life, van Gogh is generally held to have been the greatest Dutch painter after Rembrandt. His work exerted a powerful influence on the development of much modern painting, in particular on the works of the Fauve painters, Chaim Soutine, and the German Expressionists. Yet of the more than 800 oil paintings and 700 drawings that constitute his life's work, he sold only one in his lifetime.
Always desperately poor, he was sustained by his faith in the urgency of what he had to communicate and by the generosity of Theo, who believed in him implicitly. The letters that he wrote to Theo from 1872 onward, and to other friends, give such a vivid account of his aims and beliefs, his hopes and disappointments, his fluctuating physical and mental state that they form a unique and touching biographical record that is a great human document.
Background: Blossoming Almond Tree