On January 31, 2003 the Postal Administration of the United Nations started a new series, dedicated to the Indigenous Art. Sets showing indigenous art from the whole world will be issued during several years. The first set covers the Latin America and Caribbean area, and it consists of three sheets of six stamps each. The stamps were designed by Rorie Katz and Robert Stein, from the United Nations. They were printed by The House of Questa (UK).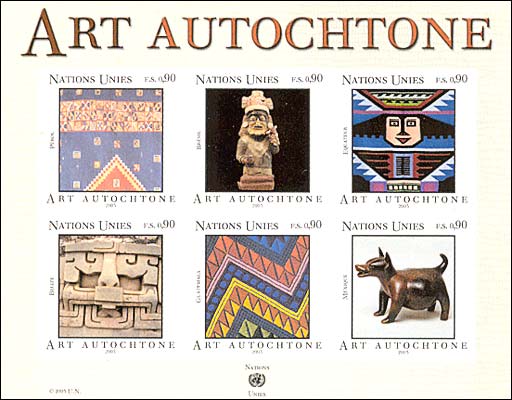 First. row. 1. Detail of a poncho, Inca design, with geometrical patterns. South shore of Peru, 1430-1532 AD. 2. Sitting character. Bahia-culture, Brazil, about 500 BC. 3. Blanket with a face and geometrical patterns. Ecuador. 20th century.
Second row: 4. Maya stone sculpture from the ruins of Xunantunich. Belize. 5. Multicolored embroidery material, Guatemala. 6. Colima figure of a dog, from terracotta. Mexico. 500 BC - 100 AD, North Carolina Museum of Art..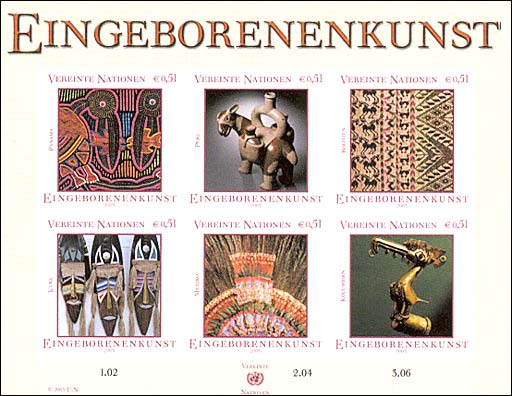 First row: 1. Mola from Panama, with two pelicans. 2. Mochica vessel having the form of a lama. 3. Tarabuco weave, Bolivia.
Second row: 4. Masks on a marketplace in Havana, Cuba. 5. Head emblazonment from feathers of an Aztec priest. 6. Decorated grip of a stick. having the form of a bird. Columbia, about 1100-1600 AD.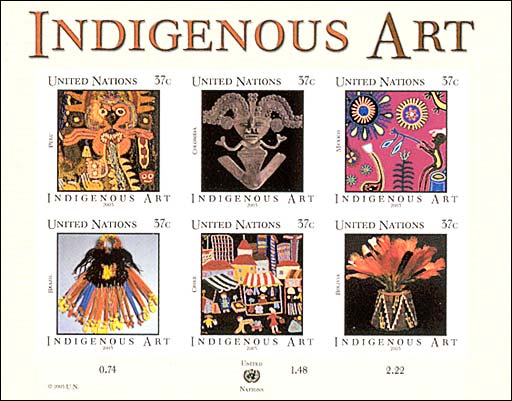 First row: Detail of a Paravas fabric in a "linear style". Peru, 600-200 BC. David Bernstein, NY, USA. 2. Pendant having the form of a man/animal. Sinu culture, Columbia, 150-900 AD. Réunion des Musées Mationaux/Art Resource, NY, USA. 3. Hicholi Indian embroidery, Mexico. 4. Back piece of jewelry, 20th century. People of Rigpaktsa, Brazil. 5. Wool weave art, Santiago, Chile. Art Resource, NY, USA. 6. Weaved Huari hat with feathers. Bilivia, 700-1000 AD. Bowers Museum of Cultural Art.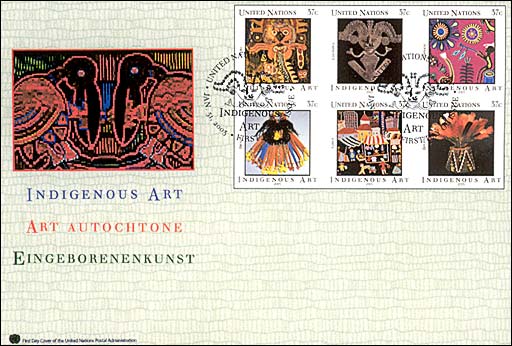 First day Cover (one of three), issued January 31, 2003.
Notice concerning the stamps issued by the United Nations
The postage stamps and postal stationery of the United Nations do not serve the postal system of a single country, as most stamps do. Instead, UN-stamps carry mail sent from the offices of an international organization that represents many different countries and billions of people all over the world.
The stamps of the United Nations often feature designs that promote the world causes of peace and justice, international cooperation, environmental and health issues, assistance for developing countries, and similar concerns.
Most of today's United Nations stamps are issued in three versions for three different UN-offices, New York, Geneva (Switzerland) and Vienna (Austria). Stamps for use at the United Nations World Headquarters in New York City are denominated in US-dollars and cents, and the postage rates correspond with United States rates.
Stamps for use at the UN European Office (also known as Palais des Nations) in Geneva, Switzerland, are denominated in Swiss francs and centimes, and are inscribed with the name of the organization in French "Nations Unies".
The third set of stamps are created for use at the UN Donaupark Vienna International Center, or the International Atomic Energy Agency in Vienna, Austria. These issues are denominated in EURO, and are inscribed in German "Vereinte Nationen".
The stamps of the United Nations cannot be used outside of UN-offices. Mail bearing a stamp from the New York UN-office must be deposited into the mail stream at UN-Headquarters on Manhattan's East Side, not in a US-mailbox or a US-post office elsewhere in New York. (Source: Linn's Stamp News, April 17, 2000).
Links to other Folk Art pages, by the same webmaster:
---
Created: 01/17/03. Revised: 01/17/03.
Copyright © 2003 by Victor Manta, Switzerland.
All rights reserved in all countries.

Click the above image to visit the site
---