I wrote, under the subject Non-Anniversary: Today the former German Democratic Republic should has celebrated its 50th anniversary. Fortunately it doesn't exist anymore to do it with the usual pomp and a false enthusiasm. The first stamp of the GDR was issued 1949, Oct. 9 and was dedicated to the 75th anniversary of the UPU. The last stamps (the 41st Congress of the Intl. Astronautics Federation, Dresden, Scott No. 2849-2852) were issued 1990, Oct. 2 and remained valid until Dec. 31, 1991. Amen.
Posted the 10/9/99 on RCSD
Charlie Jensen answered: Victor writes; :Today the former German Democratic Republic......doesn't exist anymore...." A fact that we should all be grateful for, and deserving some sort of commemoration in itself. Perhaps a moment of silence to all the brave men and women who gave their lives to make it so.

My comment: And a good wish to those who live today and who (satiated for being oppressed in their own name and subjugated for their "happiness") demonstrated 10 years ago on the streets of GDR with slogans like: "_We_ are the people - Wir sind das Volk!" (emphasis added).
I think to have seen this great slogan on a German stamp, but I could not find it in the catalogue. Maybe I have read it on a cancel. A stamp dedicated to the victims of a Divided Germany 1945-1989) was issued by German Post on Nov. 9, 1995, Scott No. 1913.

Dave Joll wrote: The "Wir Sind Das Volk" stamp was issued on 28 February 1990 by the postal service of the former DDR, denominated at 35 + 15 pfennig and catalogued by Stanley Gibbons as E3011.

I answered: Thanks, Dave, now I could find it: Scott No. B203, Leipzig Church, Municipal Arms, "We are the people".

Jan-Martin from Germany wrote by e-mail: I wish people would remember that slogan.
Tony Clayton wrote: This is a postal Tax stamp originally issued in December 1948. It was an obligatory tax for all mail posted in the Western zones except in and to Berlin itself, to help defray the cost of the Berlin Airlift. It remained in use until March 1956. The SG number(s) are AT102 to AT105g. There are two watermarks and many perforation combinations, including imperf. Gibbons lists it under British & American Zones.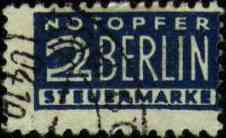 I commented: A very interesting postal tax stamp indeed, also historically.
About the Berlin Blockade. By 1948 the Soviet Union had ceased to cooperate with the other three occupying powers. On June 24 that year, in response to the introduction of a new currency, the Deutschmark, in West Berlin and the three zones of West Germany four days earlier, the Soviet authorities imposed a complete ban on road, rail, and canal traffic between the western zones and the capital. On June 26 the British and American air forces began flying supplies to the more than two million residents of West Berlin. Between that day and the lifting of the blockade on May 12, 1949, the Berlin Airlift (or "air bridge"), consisting of 277,728 flights over East Germany, carried 2,110,235.5 tonnes of supplies into the city. (After Microsoft Encarta 1996)
Posted the 10/11/99 on RCSD