Four Centuries of American Art
The United States Postal Service has issued in 1998 a palette of artistic issues. They include a pane of 20 commemoratives reproducing, in its oppinion, the best of American art from colonial times to the present century.
The twenty American paintings are featured on the pane of 32-cent stamps. The Postal Service has named them "American Masterpieces" and also "Four Centuries of American Art".
The chosen masterpieces cover the past 400 years, offering a wide range of styles and themes. The following stamps were released: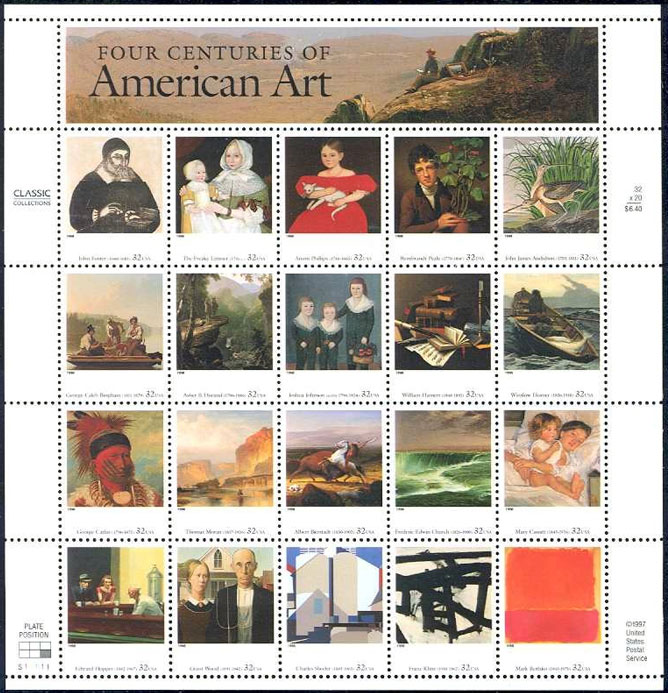 John Foster's "Portrait of Richard Mather"
The Freake Limner's "Mrs. Elizabeth Freake and Baby Mary"
Ammi Phillips' "Girl in Red Dress with Cat and Dog"
Rembrandt Peale's "Rubens Peale with a Geranium"
John James Audubon's "Long-billed Curlew, Numenius longrostris"
George Caleb Bingham's "Boatmen on the Missouri"
Asher B. Durand's "Kindred Spirits"
Joshua Johnson's "The Westwood Children"
William M. Harnett's "Music and Literature"

Winslow Homer's "Fog Warning"
George Catlin's "The White Cloud, Head Chief of the Iowas"
Thomas Moran's "Cliffs of Green River"
Albert Bierstadt's "The Last of the Buffalo"
Frederic Edwin Church's "Niagara"
Mary Cassatt's "Breakfast in Bed"
Edward Hopper's "Nighthawks"
Grant Wood's "American Gothic"
Charles Sheeler's "Two Against the White"
Franz Kline's "Mahoning"
Mark Rothko's "Number 22, 1949"
The displayed pane was issued on August 27, 1998
Background: Number 22, 1949, by Mark Rothko
Interested in some critical comments of this pane? Then please click here
Link: Abstract Expressionists, USA, 2010