Free Letters from Switzerland to USA
A great idea of Swiss postal administration
The idea of a free posting to the USA during a day, as a compensation for the delay in postage delivery and also in order to commemorate the terror attack on the USA, came to Urs Koller, the Postmaster from Arbon. It came to him during the minute of silence, when the whole Switzerland had a thought for the victims of the terrorist action of 11th September 2001.
So that Mr. Koller sent an e-mail to the CEO of the Swiss Post in which he described his proposal. A bit later he got the answer: "I'm glad that I can count on initiative co-workers."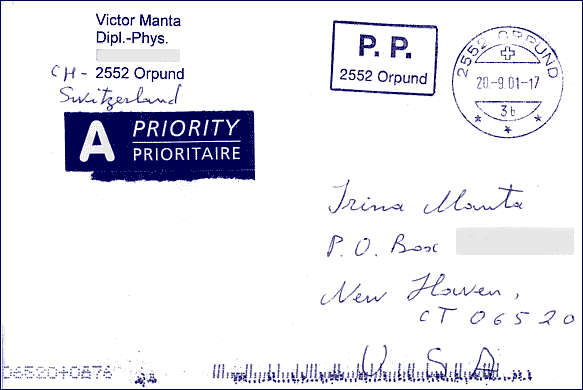 Six days later, on 20th of September 2001, the Swiss Post accepted for free all private letter weighting under 100g, to be transported to the USA. The letters were cancelled with a PP cancel and were sent by Priority Mail by the Swiss Post International.
Source: SBZ 1/2001, p.11, reprinted after Personalzeitung der Post.
The above letter, belonging to webmaster's personal collection, is surely one of his most precious pieces.
Published: 01/016/2001. Revised: 12/04/08.
Copyright © 2002 by Victor Manta, Switzerland.
All rights reserved worldwide.