The best known member of the family was Vincenzo Vela (1820 - 1891). As artist he reacted to the classicism of Antonio Canova, taking his inspiration from naturalism and creating his own style, known under the term of "verism". Famous throughout Europe, he ranks among the major Italian sculptors of the 19th century. The work "Spartacus", shown on the left, was carried out between 1847 and 1849.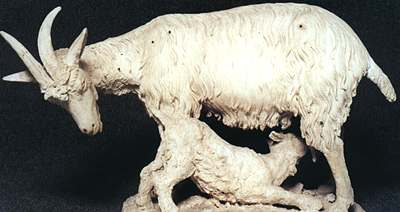 Lorenzo Vela (1812 - 1897), the brother of Voncenzo, made a name for himself as arcihtectural sculptor and Professor of Sculpture at the Brera Academy of Art. The sculpture shown above, Goat with Kid (1843) is displayed in the Vela Museum.
Spartaco Vela (1854-1895), was a painter whose work reflects the Italian impressionist style. He was Vincenzo's son and it's he who willed the Ligornetto estate, together with all collections, to the Swiss confederation in 1892.
Rediscovered around 1975, the work of Vincenzo Vela has taken a fresh importance in the art history. (After Urs Staub, Federal Office of Culture, Museo Vela. Published in Focus on Stamps, 2/2001).