Rudolf Koller
The St. Gothard Mail Coach
21st May 1828: Birth of Rudolf in Zurich, in the Augustinergasse, as a son of a butcher and of Maria Ursula Forster from Schaffhausen.
1840-43 Study at the Kantonale Industrieschule. Already 12 years old, he wishes to become a painter of horses.

1845 Study of horses at the stud of King of near Stuttgart. First orders for paintings of horses and dogs.
1846-47 Study visit at the Academy of Art Düsseldorf, class Carl Ferdinand Sohn. Friendship between R. Koller and Arnold Böcklin. Anselm Feuerbach, a colleague, admires Koller's work.

1847 Journey with Böcklin to Brussels, then to Antwerp and alone to Paris. Copies of works of painters from Low Countries from the 17th century, found in Louvre. Study of modern painters, like with the animal painter Jacques Raymond Brascassat, later study of nudes.

1848 April: back to Zurich due to money problems.

1849-50 Nature studies in Hasliberg at Brünig. Journey with Ulrich and Gustav Heinrich Ott to München. Make acquaintance with Johann Gottfried Steffan and Friedrich Voltz.

1851 April: Back again to Zurich. Friendship with Robert Zünd and Ernst Stückelberg.
Mai: Opening of an Ateliers in Zürich-Oberstrass. Bigger orders for animal paintings.

1852-53 Malt Terrain studies in collaboration with Robert Zünd on Walensee.

1856 5. Mai: Marriage with Bertha Schlatter. Honeymoon trip to Vienna.

1857 Koller paints "Cow in herb garden" (Kunsthaus Zürich). Friendschip with Gottfried Keller, Jacob Burckhardt and Friedrich Theodor Vischer.

1862 Purchase and reconstruction of the house "Zur Hornau" at Hornbach at Zürichhorn, where he will live till his death. Has animals there, in order to study them.

1865 Important style change in Koller's work, thank to the meeting with the plain air painters of modern French art.

1868-69 November till June: Trip to Italy (Florence, Rome, Naples). Study of nature.

1870 Outbreak of an eyes illness that will more and more influence his work.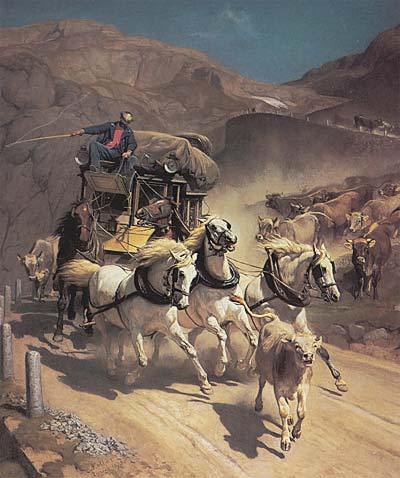 1872 Journey to Riviera.

1873 Longer stay in Vienna. First version of "Gotthardpost" (Kunsthaus Zurich).

1874 Copy of "Gotthardpost".

1885-92 Böcklin is in Zurich. Intensive contacts to Koller.

1888, 1891, 1894 Koller's journeys to München.

1898 70 birth anniversary. On the 1st of Mai opening of a big exhibition in Zurich, with over 20'000 visitors. Doctor Honoris causa of Zurich University.

1900 Last trip to Italy Italy, last meeting with Böcklin in San Domenico at Florence.

1905 5th of January: Rudolf Koller dies in "Hornau". Monument in the cemetery Sihlfeld, Zurich, near Gottfried Keller.
(after: http://www.kunsthaus.ch/ausstellungen/2002/rudolf_koller/biographie.htm)
Translated from German by Victor Manta.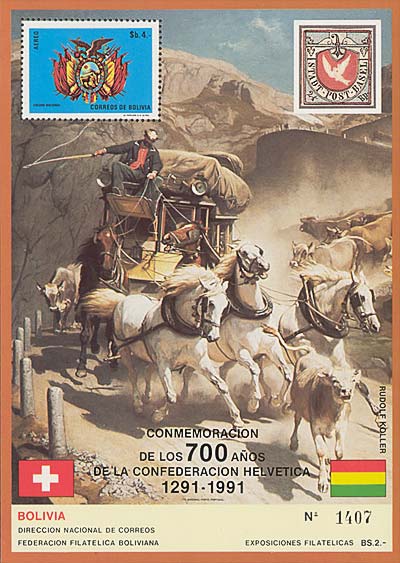 The Gotthard Post (Gotthard Mail Coach) is not only the most renown painting of Rudolf Koller, but, probably, of the whole Swiss painting. The idea of this painting came actually from the wife of the painter, but, of course, the composition is entirely his. It differs from most other paintings of him (very often showing wonderful, peaceful Swiss cows) by its dramatic sense and also by the humorous apparition of a lost calf in face of the galloping coach.
Between 18 December 2002 and 18 Mai 2003 the exhibition at Kunsthaus Zurich shows Rudolf Koller's most representative works. I have visited this exhibition on the 7th of January 2003, and I can say that I have discovered this remarkable painter.
( http://www.kunsthaus.ch/ausstellungen/2002/rudolf_koller/index.html )
Published: 01/08/2001. Revised: 01/08/03.
Copyright © 2003 by Victor Manta, Switzerland.
All rights reserved worldwide.