Dalí, Salvador (1904-1989), Spanish painter, writer, and member of the Surrealist movement. He was born in Figueras, Catalonia, and educated at the School of Fine Arts, Madrid. Tip: please point on the stamps with the mouse index for supplementary information.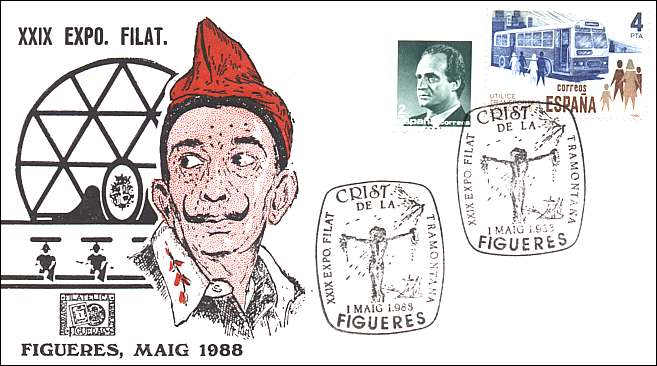 After 1929 he espoused Surrealism, although the leaders of the movement later denounced Dali as too commercial.
Dali's paintings from this period depict dream imagery and everyday objects in unexpected forms, such as the famous limp watches in The Persistence of Memory (1931, Museum of Modern Art, New York).
Dalí moved to the United States in 1940, where he remained until 1948. His later paintings, often on religious themes, are more classical in style. They include Crucifixion (1954, Metropolitan Museum, New York) and The Sacrament of the Last Supper (1955, National Gallery of Art, Washington, D.C.).
Dali's paintings are characterized by meticulous droughtsmanship and realistic details, with brilliant colors heightened by transparent glazes.
Dalí designed and produced Surrealist films, illustrated books, designed jewelry, and created theatrical sets and costumes. Among his writings are ballet scenarios and several books, including The Secret Life of Salvador Dalí (1942) and Diary of a Genius (1965). (Source: Microsoft Encarta, 1996).
Background: The Phantom Gig, 1933. Private collection.