History and Collections
Situated in the centre of of the Russian city Sankt Petersburg, the State Hermitage Museum is housed in five magnificent buildings created by renown architects of the 18th to 19th century. The Winter Palace, formerly the residence of Russian Emperors which was constructed between 1754 and 1762 after a design of Bartolomeo Rastrelli, occupies an important place amongst the other constructions of the overall Museum ensemble.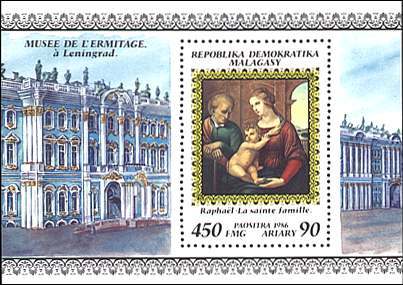 The personality of the Empress Catherine the Great illuminated the epoch that got in history the name of the "Magnificent Age". In the reign of Catherine II the grandeur palace ensemble became the official residence and the storehouse of numerous art treasures. Put together throughout 250 years, the Hermitage collections of works of art, counting over 3,000,000 items, present the development of the world culture and art from the Stone Age to the 20th century.
Malagasy, 1987. Paolo Veronese,

Minerva (1560). Sc. 832. Pushkin Museum.
We will show on the subsequent pages paintings from the Hermitage, but also some from the Pushkin Museum in Moscow, because they originate in the Hermitage painting collection. The paintings were moved in the 1920th by the order of the Soviet government to the new capital of the USSR, Moscow.
The above maximum card commemorates the 225th birth anniversary of the Hermitage Museum.
Source: The Hermitage Museum site