In the world of today, the art of writing and reading letters has lost the importance it had in the past. In industrialized countries it is being more and more replaced by e-mail, a practical, but a less romantic way of quickly sending messages around the world.. Fortunately, talented painters from the distant past left us nice images about something that was once an important activity and also an art - the letter writing. Please point on the stamps with the mouse index in order to get some information about the works of art displayed.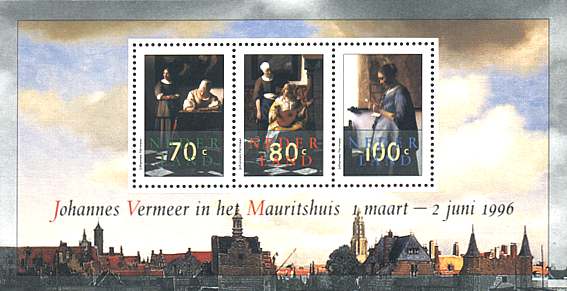 Of only 35 known paintings of the great Dutch painter Jan Vermeer, three are dedicated to letter reading and writing. They appeared together on a souvenir sheet issued by Netherlands in 1996 (see above).
This nostalgic page tries to bring to our memory the times when a letter was written by hand, sometimes with a scent of fine perfumes provoking deep emotions already before it was opened.
Even if the Letter Writing Era is more in the past than in the present, we are still capable to understand and to feel touched by the thoughts, feelings and emotions transmitted over the years and centuries by the old masters.
These artists have for sure experienced during their lives the same emotions as their models when they have written, read, or just opened their private letters.
We are now waiting for the remarkable contemporary artists to immortalize for the future generations the present day e-mail writing and reading, and for the associated scent of perfumes spreading around the planet.
Link: Letter Writing, by Metsu and Vermeer