You have entered the first site on the Web, published in 1999, that is fully dedicated to the fascinating topic of Art on Stamps. Some of the nicest stamps worldwide belong to the Art on Stamp topic and many of them are presented here.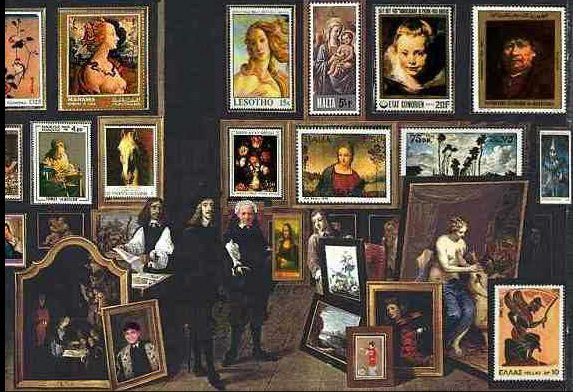 The above art on stamps mosaic is based on the painting "The Archduke William in His Gallery in Brussels", by David Teniers the Younger (1610 - 1690). This work of art is exhibited at the Historical Museum of Fine Arts in Vienna. On the left hand of the the archduke the artist painted himself. But because many of the original paintings on the wall were gradually replaced by more famous ones, shown on stamps, poor David lost his head, which was finally replaced by the head of the author of this site (end result: farewell to the anymore unsupported Flash animation).

To enter the permanently expanding universe of Art on Stamps please choose a language by clicking on one of the images below. We recommend you to choose English, the version in this language being the only one that is up-to-date.
For updates published since the end of the year 2022 please choose English only, support for translations being provided in many languages. Pour les mises à jour depuis fin 2022, veuillez choisir l'anglais uniquement, la prise en charge des traductions étant fournie dans de nombreuses langues.
The images for the entry doors to the Art on Stamps subsites, in different languages, were taken from the work "From Morocco", a painting by the Swiss artist Heinz Grüter. This work is permanently exhibited in webmaster's personal art and stamps gallery.
---
Created: Oct. 12, 1996. Revised: Oct. 15, 2023.
Copyright © 1996 - 2022 by Victor Manta, Switzerland / USA.
All rights reserved worldwide.
---