The set below on the left was issued in 1967 by former East Germany. The paintings disappeared from the German National Galleries during the WW II.
Above are shown, from left to right: 5 pf. Rubens - Three Horsemen, 20 pf. H. Thoma - Spring Idyll, 10 pf. G. Dou - Girl with Grapes, 25 pf. K. Begas - Portrait of W. Schroeder-Devrient, 40 pf. S. Bray - Young Girl with Straw Hat, 50 pf. Jordaens -The Four Evangelists.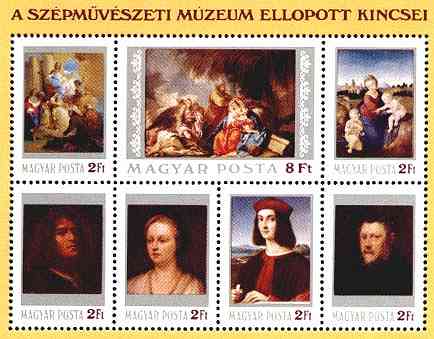 The souvenir sheet displayed above was issued in 1984 by Hungary, under the name "Stolen and Found Paintings from the Fine Arts Museum, Budapest". It displays works of Giovanni Batista Tiepolo (2), Raphael (2), Giorgione and Tintoretto (2).
| | | |
| --- | --- | --- |
| | The painting "Ecce Homo" is the work of the Italian master Tiziano Vecellio. It was the masterpiece of the Brukenthal Museum in the Romanian town Sibiu (Hermannstadt). The painting disappeared shortly after it was reproduced on a stamp and on a souvenir sheet (the date of issue was March 28th, 1968) and was never seen after that unfortunate event. | |